At Twin Technology, we have countless years of experience in providing server and storage solutions to our customers.
Our managed server support partner is designed around your specific environment and ensures an engineering presence is available remotely. Our packages include multiple features including:
Support and maintenance problem diagnosis and resolution of hardware, software and network faults
Proactive device management where each device on the network has our bespoke support client installed, monitoring each aspect of the device and alerting us when appropriate.
Dedicated Accredited System Administrator, who will provide quarterly onsite days, guidance around IT policies and procedures, audits and make recommendations around your infrastructure.
Additional Services:
Along with the aforementioned features, our managed server support also includes these additional services:
Onsite Backup Monitoring and Rectification
Support for Home users
Disaster Recovery testing
IT Security review and recommendations
IT Infrastructure review and recommendations
For our managed service partner support, we offer 3 packages, Bronze, Silver and Gold. The Bronze package offers support for up to 15 users with reactive support and a discounted on-site support rate. The Silver package offers unlimited user support , along with proactive support, regular system checks and a discounted on-site support rate. Our Gold package includes everything in the Silver package, along with additional on-site support quarterly, a dedicated support administrator and an Annual IT analysis.
Pick the right cover for you using our comparison chart: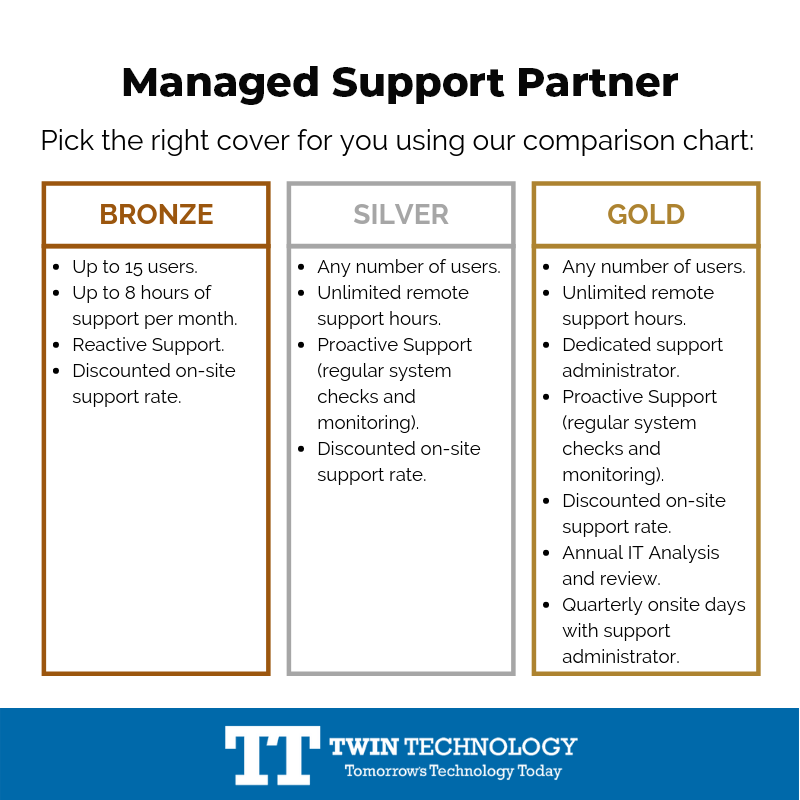 At Twin Technology we believe that we have a support package available to suit all your IT support requirements. We also provide traditional consultative based services around design and installation and development of websites and applications, so don't hesitate to call our dedicated Account Managers for any and all your IT requirements.